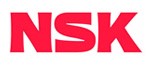 NSK are one of the largest bearing manufacturers in the world. Apart from their traditional ball & roller bearing product, they are a high quality provider of Linear Motion products.  These products include:
 Profile rail & bearings
 Ball screws & nuts
 Ball screw supports
 Linear modules
Combined with a few other specialised components.
NSK are constantly doing Research and development as a consequence they have developed a new profile rail series called N1H & N1S series which offered improved performance and longevity over standard profile rail products.
NSK-Standard profile rail and linear bearings data
NSK Roller Profile Linear Rail and Bearing data
NSK New NH/NS Series
Note: This new and improved product line is being gradually introduced and will replace the standard series.
Standard and new NH/NS series is interchangeable.
For further technical information on these series, please contact your local Statewide Linear consultant.