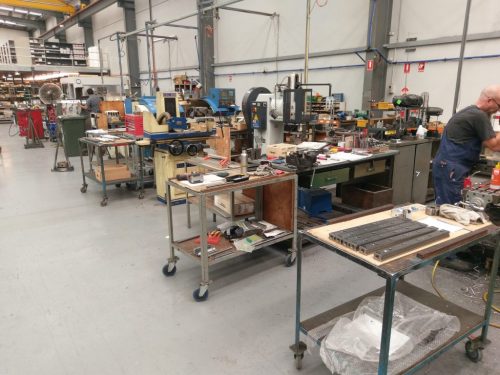 Refurbishments & Repair
Refurbishing and repairing the parts and components of heavy equipment and machinery is a specialised task that requires a great deal of skill and experience.
Bearing refurbishment is just one example of the many types of services that we offer at Statewide Bearings. We have a team of skilled engineers and technicians who have extensive factory experience in refurbishing all manner of machinery parts and components, including pumps, valves, industrial brakes and clutches, and linear ball screws.
Heavy machinery parts, component refurbishment & repair
45+ years of experience servicing Australian businesses
Friendly and knowledgeable staff who offer great customer care
Contact us today to learn more about how we can help you keep your equipment running smoothly.
Heavy Equipment Repair
Bearings in heavy equipment are constantly put under stress while they fulfil their purpose of transferring motion. With proper care, these bearings can last for many years to come.
For this reason, all bearings in heavy equipment require regular repair and refurbishment to continue functioning correctly and reach the full potential of their lifespan.
When it comes to heavy equipment refurbishment, you want to be sure that you're working with a reputable and experienced company. Otherwise, you risk further damage to your equipment or voiding any warranty that may be in place.
Contact Statewide Bearings today to find out how we can help you.
Mining Equipment Refurbishment Perth
Mining equipment repair and refurbishment is a highly specialised service that can not only help extend the lifespan of your equipment, but can also improve its performance.
Whether you're using mining equipment for exploration, extraction, or processing, it's important to keep it in good condition.
Over time, mining equipment can become worn through heavy use and exposure to the elements. This can lead to reduced efficiency and an increased risk of breakdowns.
By refurbishing your mining equipment, you can enjoy improved performance and reliability.
At Statewide Bearings, we specialise in refurbishing and repairing certain bearings – for example, slew bearings in mining equipment.
Contact us today for more information on our repair and refurbishment services.
Roller Bearing Inspection
High-quality roller bearings are essential for the smooth operation of numerous types of machinery, from mining equipment, to construction and agricultural equipment, to heavy transport and more.
Subject to bearing inspection at our premises, the roller bearing can be reused in some cases.
This inspection process involves disassembling the bearing, cleaning all the parts, and an inspection of the raceways, rolling elements and cages to determine the condition of the hardness of these components and the raceways suitability to be reused or replaced.
If you are looking for a reliable company to inspect your bearings, think Statewide Bearings. We can inspect in some cases, repair the bearings. Please contact our friendly team today.
High-quality materials
Fast turn arounds
45+ years of experience
Heavy Equipment Breakdown Services
At Statewide Bearings, we understand that businesses rely on their industrial machinery and equipment to keep operations running smoothly. That's why we offer a breakdown service designed to get companies up and running again after a bearing failure.
If your machinery has broken down, whilst  we don't have the resources to be able to offer a 24/7 emergency breakdown service, you can book a call-out from our experienced technicians. In addition, we offer a   to help keep your equipment running at optimum levels and avoid future breakdowns.
When it comes to extending the longevity of your equipment, we are here to help. Contact us today to learn more about how we can assist you.
Industries We Service
At Statewide Bearings, we have been assisting businesses with the refurbishment and repair of parts and components for heavy equipment for over 45 years. With over 30 branches, we service the whole of Australia and Indonesia.
The industries we service include:
Agriculture
Construction
Manufacturing
Food & Packaging
Automation
Mining
Specialist Machine Manufacturing
Wind Energy
Heavy Transport
Marine
If your industry isn't listed above, we may still be able to help you. Please contact our friendly team today to find out more.
Our Key Services
Looking for other industrial machinery services?
In addition, we offer a range of services crucial to the longevity of your machinery and equipment, including:
Custom manufacturing and modification services for industrial equipment. We work with our clients to understand their specific needs and requirements, and we then design and build custom solutions that meet or exceed their expectations. Our team has extensive experience in various industries, and we are confident that we can provide the perfect solution for your particular application.
Onsite inspection, servicing, and maintenance services are essential to running operations smoothly. By regularly checking for wear and tear, you can avoid unexpected equipment breakdown or technical failure and keep your equipment running at peak performance. In addition, regular maintenance can extend the life of your investment.
Machinery & equipment training is essential in many industrial industries. Not only does it help to ensure that employees can use the equipment safely, but it can also help prevent machinery breakdown due to improper use. Proper training includes both classroom instruction and hands-on practice, and it should be tailored to the specific equipment or machinery.