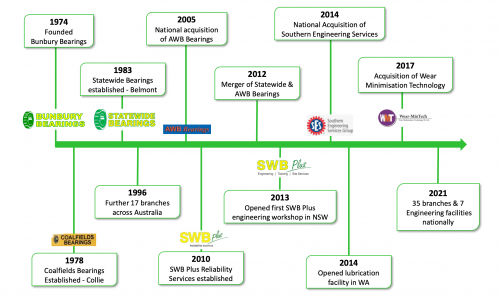 Statewide Bearings has a well-developed network of trained and experienced personnel, complimented by our manufacturers' engineering departments. With our hands-on attitude, innovative approach and commitment to work collaboratively with our customers, Statewide Bearings will remain at the forefront of bearings and power transmission supply.
Our core aim is to work in partnership with our customers and suppliers, to provide the best solution available for the application, which represents the best value for money and suits all parties from a timing perspective.
Statewide Bearings not only provides industry-leading products, but offers a full range of technical support services to our customers in an ever expanding market.
Our expertise in the procurement, supply and support of bearing and power transmission products adds value to our customers' businesses on a daily basis. At Statewide Bearings, we provide real solutions – not desktop answers.
These solutions are based on a culmination of our experience across multiple industries; the broad-ranging expertise of our staff; the collaboration with our suppliers; and the introduction of new products and technology.
At Statewide Bearings, we continually reinvest in our people and our stock to maintain the highest standards and remain at the forefront of the bearing and power transmission industry.
Our proactive, hands-on approach is underpinned by our extensive industry experience and meticulous attention to detail.
Operating for over 45 years, we have a proven track record of supplying high-quality products and cost-effective solutions, along with an outstanding level of service. As a result, we have forged a reputation for excellence and the organic growth of our business through word-of-mouth referrals is testimony to this.