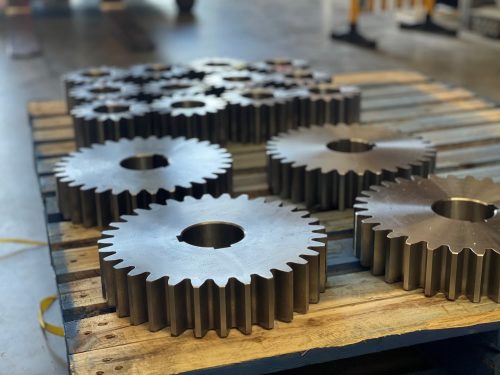 Machinery and equipment modifications have become prevalent throughout commercial industries, as businesses strive to develop optimal pieces of engineering and maximise efficiencies. Often custom parts are required for these engineering projects.
With our extensive product knowledge and a huge variety of bearing types, sizes, and material options, Statewide Bearings are here to assist.
As a leading supplier of industrial bearings, power transmission components, pumps, brakes and lubrication products for over 45 years, we have the skills and experience to provide engineering advice for your application or solution you are seeking.
Bearing engineering, machining & modifications
High-quality materials and custom sizing
45+ years of experience servicing Australian businesses
Friendly and knowledgeable staff who provide great customer care
Whether you need immediate assistance or long-term support, we are here to help. Contact us today to learn more about how we can assist you.
Precision Machining Services
Commercial equipment manufacturing often calls for precision machining of engineering parts to meet exact specifications.
At Statewide Bearings, we offer high-quality machining services, with fast turnarounds. Our  modern manufacturing equipment enables us to provide machining aligned to our product range and services.
For machining services in Perth, and throughout Australia, please contact our expert team.
Custom machining services
High-quality materials
Fast turn arounds
45+ years of experience
Industries We Service
At Statewide Bearings, we have been engineering and modifying bearings for hundreds of businesses across Australia and Indonesia for over 45 years.
The industries we service include:
Mining
Agricultural
Construction
Automation
Specialised machine manufacturing
Manufacturing
Marine
Trucking
Wind Energy
If your industry is not listed above, we may still be able to help you. Contact us today to find out more.
Our Key Services
Looking for other industrial machinery services?
We provide a range of services crucial to the longevity of your machinery and equipment parts, including:
We provide onsite inspection, servicing, and maintenance services of the bearings, pumps, valves, and other equipment we supply. Our technicians will come to your site to inspect your equipment. If repairs or maintenance is necessary, our technicians will perform the work onsite, ensuring that your equipment can operate efficiently.
At Statewide Bearings, we understand that our customers rely on us for quality parts and components. Our bearing refurbishment and repair service supports the function of your machinery and equipment while providing a prolonged return on your investment.
At Statewide Bearings, we provide mechanical training, enabling businesses to service their own machinery and troubleshoot issues, saving time and money of calling out a mechanic.