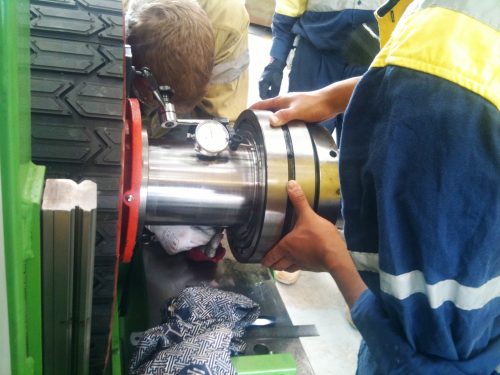 From farming to manufacturing, to mining, machinery is a critical part to the success of many businesses and industries.
For machinery to continue running smoothly, it needs to be properly fitted, serviced and maintained, which is where our training services come in.
At Statewide Bearings, we provide equipment and heavy machinery training for our range of products and components, teaching staff how to install and maintain them, as well as the general dos and don'ts.
A solid understanding of how to install, service and maintain machinery parts and components ensures that the machinery and equipment can continue to be used safely and effectively. Moreover, mechanical training can also help people troubleshoot machinery issues, saving the time and money of calling out a qualified technician.
The training we provide is specific to our products and components; we do not provide general training on how to operate or maintain your equipment and machinery in its entirety.
Our heavy equipment  technician training includes:
Machinery lubrication training
Vibration monitoring training
Equipment maintenance training
Conveyor head and tail maintenance pully training
Heavy machinery servicing training
Our Hands-On Training
Based on our 45+ years of experience, intricate product knowledge and solid understanding of various industries, Statewide Bearings has developed a range of fully integrated machinery training courses. Our knowledge of the issues affecting various site operations and the importance of correct handling and fitting of bearing and power transmission components means we are well-equipped to help you ensure your operations run smoothly.
The Hands-On Training Rig (HOTR) consists of a complete bulk handling belt conveyor pulley assembly comprising a shaft, locking elements, bearings, housings, pulley tracking, and sealing options.
Our training options for the HOTR include:
Safety:
From plant machinery training to farm machinery training, safety is of the utmost importance.
Safety training prior during and post exercise will be carried out with the same intensity and seriousness of the 'true' site operation that it is. This will include: – JHA, JRA; personal lock-outs, barriers and zoning; post work assessment etc.
Bearings installation/fitting and removal:
Fitting of various bearing types using mechanical, thermal and hydraulic tools – as applicable.
Checking of mounting components (shaft, housing and footplate) for dimensional and geometric conformity to recognised ISO standards. Although a working knowledge of the use of micrometres (both internal and external) is assumed, there will be opportunity for familiarisation with the instruments.
Installation of spherical roller bearings using internal radial clearance reduction, axial drive-up and the latest product vendor methods (NSK displacement, FAG volume methods).
Removal of spherical roller bearings using the oil injection method.
Mounting and removal of self-aligning ball bearings.
Mounting and removal of a unitised roller bearing unit.
Fitting of various bearing housing styles (of a size applicable to the Australian mining industry) complete with taconite (the industry standard) sealing.
Conveyor pulley assembly:
Fitting and locking of the shaft to the pulley shell utilising Ringleader locking elements.
Fitting the bearings and housings to the pulley assembly
Explanation of the need to shim and pack the pulley arrangement to ensure correct alignment and proper running of the bearings and housings.
An ability to read a technical drawing is assumed, but guidance will be provided.
Drive belt installation:
Fitting of driver and driven vee belt pulleys to the appropriate shafts. Various pulleys to shaft locking devices are used.
Vee belt fitting, alignment and tensioning using mechanical & laser methods.
Bearing Failure analysis:
Inspection of defective components to ascertain their failure mode and root cause (bearing, pulleys, belts and couplings).
Commissioning the machine:
This is a fully dynamic training machine that can be run after assembly.
SWB – Hands On Training Rig (HOTR) 1 Day course
Our Key Services
We provide a range of services crucial to the efficiency and longevity of your machinery and equipment, including:
Custom manufacturing and modification services for industrial equipment. Industrial machinery is an essential part of any manufacturing process. Custom parts and components for your machinery can provide a cost-effective solution for businesses who need specific equipment for their operations. In addition, modification services can help machinery meet a business's exact needs.
Onsite inspection, servicing, and maintenance services are essential to maximising efficiency. Invest in your equipment by regularly checking for wear and tear. This will help you avoid unexpected breakdowns or technical failures, which can lead to lost time on projects. Plus, maintaining your machinery and equipment will help it last longer and continue working at peak performance.
Refurbishment and repair of ageing parts and components. Machinery is an expensive investment for a business. If your machinery is ageing and you are considering purchasing a replacement, assess whether refurbishing could be the better option.
Scheduled maintenance breakdown No business can afford to have its equipment down for long. When an unexpected equipment breakdown or technical failure occurs, it can quickly lead to lost productivity and missed opportunities. Let Statewide Bearings assist you with planned maintenance scheduling.