Profile Rail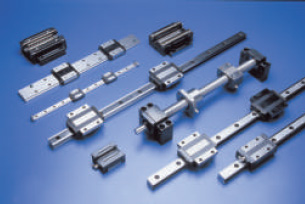 Profile rail is commonly supplied as four track recirculating balls or rollers running on appropriate linear track. This is referred to as "Profile Rail" or "Linear Rail".
The range of bearing rail allows customised selection to suit your application relating to loads, installation dimensions, environment conditions, linear speed and duty cycles.
This versatile range is non-interchangeable between brands, however there is some commonality on crucial mounting dimensions, therefore you cannot put X brand bearing on Y brand rail. Profile rail offers higher performance characteristics and lower overall height installation dimensions than that of traditional round bar and linear sets.
Linear motion profile rail guides
Miniature through to large heavy-duty sizes available as stocked lines
Latest technology enabling high speeds, low noise, lower friction, less maintenance
Cut to length according to customer requirements
Manufacturer's that we represent include, THK / NSK / TBI / REXROTH / STAR / NB / and economy series.
CLICK HERE TO DOWNLOAD PROFILE RAIL APPLICATION SHEET.
For further information on our range of linear motion rail guides (other brands available on request), please contact our sales team.