HOVE AUTOMATED LUBRICATION SYSTEMS              
Statewide Bearings distributes HOVE products, including their automated lubrication systems.
HOVE is a specialised company that develops, customises and produces:
Dosing units
Fittings and Valves
Flow Distribution
Grease cartridges
Pumps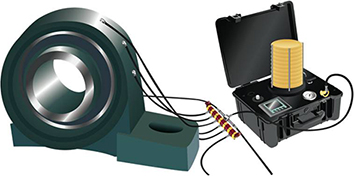 Easy Greasing Concept
The Easy Grease Concept consists of lubrication pumps for various applications. Patented pumps and patented grease cartridges.
All in a suitcase
The "Easy Grease concept" was initially developed with the purpose of improving the level of service and maintenance of wind mills. Furthermore, the system should minimize the "down time" in connection with service and repair.
Easy to handle
Easy Grease is a "dosing unit" that is very easy to handle and with an accuracy of +- 0,5 % it can supply all "greasing points" in the Nacell efficiently. Greasing of several spots at a time can be done by means of a "flow divider".
Easy Grease is extremely solid and stable and can be used for any kind of grease. The popular greases used are Klüberplex 41-132, Klüberplex 41-141, Shell Rhodina, Fag Load 400, SKF, Optimol Optipit and Mobility. A lubrication pressure up to 250 bar ensures an even flow irrespective of the lengths of the tubes from the machine to the lubrication point.
The Easy Grease Concept has several advantages compared to manual lubrication. Its portable grease lubrication system was specifically designed for the wind industry.
It provides a number of benefits:
less downtime during maintenance
accurate lubrication
less contamination risk
lower costs on lubricants
less muscular stress for technicians
Hove Re-filler
Pump for refilling of the reservoirs of central lubrication systems.
Hove Easy Grease
Pump for correct dosing and direct application of grease into bearings.
Facts
Hove Easy Grease has the following specifications:
Volume:                              250 gram/minut.
Pressure:                            250 BAR/3626 PSI
Dimensions:                       45 x 37 x 18,5 cm
Weight:                               20,6 kg
Supply voltage:                 220 V/110 V
Accuracy flow meter:       ± 0,5 %
Hove Easy Grease is built into a solid flight case for maximum protection.
Hove Hose Set
Provides the opportunity to lubricate several inlet points at the same time.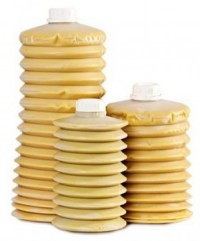 The Hose Set insures that the same amount of grease is delivered to each grease point.The Hove Cartridge
The Hove Cartridge is developed for one time use only in regards to minimizing the risk of contamination.
When disposed, the Hove Cartridge is only 5 % of the size of a filled cartridge. The cartridge is produced of polyethylene.
The Hove Cartridge is available in three sizes, 1, 5 kg, 3 kg and 5 kg, but can be filled with a customer required amount if requested.
The Hove-cartridges can be filled with all types of grease on the market.
Major Hove Clients
VESTA, GE, SUZLON, ENERCON, SIEMENS, GAMESA, EON, DONG ENERGY & VATTENFALL