SPHERICAL ROLLER BEARINGS
Spherical Bearings, or spherical roller bearings (as opposed to spherical plain bearings), are double row, self-retaining units comprising solid outer rings with a concave raceway, solid inner rings and barrel rollers with cages. The inner rings with cylindrical or tapered bores.
Spherical Roller Bearings work well in industries where angular misalignment of machinery needs to be compensated for, offering a lower friction solution to misaligned rotation. This is necessary in construction and mining machinery in particular, but also for other industries such as steel, paper-making, wind turbines, gearboxes, electric motors and many more.
The symmetrical barrel rollers freely align themselves to the concave outer ring raceway. As a result, shaft deflections and misalignment of the bearing seats are compensated.
NSK Spherical Roller Bearings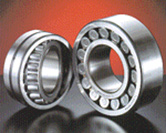 Statewide Bearings stocks and distributes a range of NSK Spherical Roller Bearings. NSK has been working for almost 100 years to develop innovative and effective solutions to meet the needs of companies using machinery in many different industries. Statewide Bearings distributes NSK spherical roller bearings because they are made with innovative design using the highest grade of steel used by bearing manufacturers world wide. This steel has the lowest measured impurities, thus offering high performance and life characteristics.
NSK now offer the market a innovative new sealed design for spherical roller bearings. This technology is unique and patented to NSK. Please consult your nearest branch for suitability and more information in addition click on the link below to view details of an application case study.
Contact us today to discuss your spherical roller bearing supply needs – we source from the world's top manufacturers.