PLAIN BUSHINGS
Statewide Bearings have several plain bearings and bush options available to suit your applications.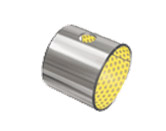 Metal Polymer Composite Bearings
Metal-polymer composite plain bearings enable economical solutions in many industrial and automotive applications. They are particularly effective with oscillating movements and achieve a rating life several times higher than that of bearings with conventional materials. In addition, all our new plain bearings are lead-free and, therefore, environmentally friendly.