PLAIN BEARINGS & BUSHINGS
As one of Australia's leading suppliers of plain bearings and plain bushings, Statewide Bearings offer an extensive product range, along with expert advice.
We have several plain bearings and bush options available to meet your unique needs.
Plain bearings – sometimes known as bushes, bushings or sleeves – come in a variety of materials and compositions to suit most demanding applications. In all cases they allow movement for sliding, rotation or oscillating actions, where there is relative motion between opposing surfaces.
When selecting your products, consideration needs to be given to;
Dimensional constraints
Loads
Speeds
Lubrication requirements
In some cases, normal ball and roller bearings may be more suitable.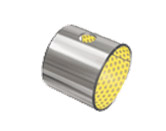 Metal Polymer Plain Bearings
Metal-polymer composite plain bearings enable economical solutions in many industrial and automotive applications. They are particularly effective with oscillating movements and achieve a rating life several times higher than that of bearings with conventional materials.
Generally, these consist of a metal backing, with a sintered porous bronze layer that is then impregnated with PTFE. The benefit of which is to obtain a running surface that is lubrication free with anti-friction and wear-resistant properties. These bearings can operate dry or with external lubrication.
In addition, all our new plain bearing bushes are lead-free and, therefore, environmentally friendly.
Please download the catalogue on this range below.