BALL BEARING UNITS – WIDE INNER RING
Statewide Bearings offer a wide range of ball bearing units with performance features, including triple seal design for severe contamination conditions, stainless steel units for corrosive environments, and high durability bearings for demanding applications.
We offer a range for metric or imperial shaft sizes and in various combinations including pedestal housing, flanged housing in 2 bolt and 4 bolt, hanger type units and also pressed metal housing options. The wide inner ring bearing offers options of various sealing and mounting options combined with a self aligning capability.
Construction
Ball bearing units or otherwise known as wide inner ring type bearings employ a combination of materials and construction that offer a solution of various shapes and shaft locking depending on application requirements.
The bearing outer surfaces are spherical that match the inner surface of the housing this assembly arrangement means the unit is self aligning.
The inside construction of these units is similar to standard 62 or 63 bearings series that utilize a duplex seal typically using a combination of synthetic rubber and a metal outer slinger. This provides superior sealing see fig 1. There are other custom sealing options that can be incorporated, see a Statewide Bearings branch to discuss these options.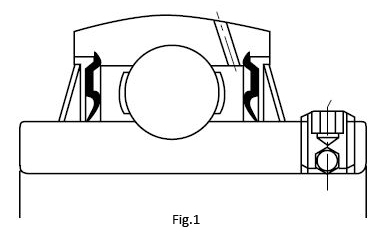 There are several methods to lock the inner race of the bearing onto a shaft
2 set screws see fig 2
Inner ring has a tapered bore with a matching adapter when tightened clamps on to the shaft
Eccentric locking collars where the inner ring is fastened to the shaft by means of eccentric groves provided at the side of the inner ring and on the collar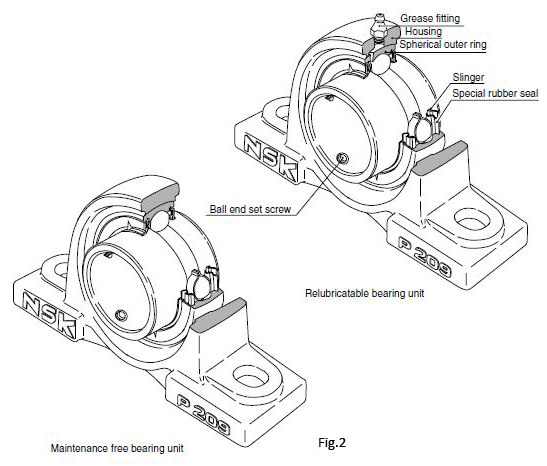 Design Features and advantages
Maintenance free types are available
Able to be re-lubricated
Secure Fitting options
Self Aligning
Higher rated load capacity
Light weight
Easy Mounting
Easy bearing only replacement