NSK & FAG (SCHAEFFLER) BALL TYPE BEARINGS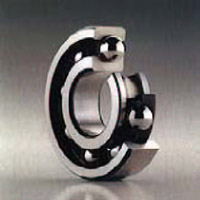 Ball bearings are versatile, self retaining bearings with solid outer rings, inner rings, ball and cage assemblies.
These products are of simple design, robust in operation and easy to maintain. Due to their relative low frictional torque deep groove ball bearings are suitable for high speeds. The angular adjustment facility of single row ball bearings is limited so bearing positions must be well aligned. Ball bearings are manufactured with several various configurations which provide different features suitable for a wide range of applications, i.e. Angular Contact, Double row.
FAG (Schaeffler) and NSK manufacture a comprehensive range of deep Groove Ball Bearings that meet or exceed ISO specifications. FAG (Schaeffler) & NSK have a range of specific products with features and benefits to offer a solution across most applications.
Ball type bearings can be broadly categorized into the following groups.
Single row deep groove ball bearings
This type are rigid and non-separable radial bearings. The balls run in deep grooves in bother the inner and outer rings therefore their load capacity is good in both radial and axial directions.
Single row angular contact ball bearings
These are rigid and non-separable radial bearings. These are produced with several different contact angles which means they only accept thrust loads in one direction. They must be used in pairs where a bearing has to be adjusted against another to guide the shaft in the opposite direction. These bearings are suitable for high speed accommodating both radial and thrust forces which can include combined loads and tilting movements.
Self aligning ball bearings
These are non-separable double row radial bearings. Both rows of balls rotate in parallel within a spherical outer ring. This feature allows for excellent misalignment which can be caused by machining and mounting errors. This series are suitable for low to medium loads including relatively low thrust force.
Thrust ball bearings
These are separable axial bearings that assist in simple mounting or dismounting. The bearing washers, cage and ball assemblies meaning each may be individually mounted in location. Thrust ball bearings accommodate rather high axial load, but cannot be used while radial forces are present. They do not compensate for any misalignment.
It is recommended that you consult your local Statewide Bearings branch and engineering team to ensure you get the most appropriate bearing for your application.