SWB Become Australia's Exclusive Distributor for Timken Revolvo
Statewide Bearings is excited to announce that we are now the exclusive national Australian distributor for Timken Revolvo (formerly SRB Split Roller Bearings).
Here's why we're so excited to distribute the Timken Revolvo brand.
Timken Revolvo: Innovation in Split Cylindrical Roller Bearings
Revolvo Split Cylindrical Roller Bearings have been designed and developed to maximise service life and minimise maintenance effort. From concept to design, design to production and throughout the life cycle of the product, no other split bearing manufacturer works so hard to exceed your expectations. The complete range of Split Cylindrical Roller Bearings incorporate a number of innovative features that assist the user in terms of product performance and also the maintenance engineer with fitting and assembly benefits.
The benefits of a totally split to the shaft bearing are long established with savings in production and maintenance well documented. However, split cylindrical roller bearings are now being selected for a wide range of applications based on other benefits they provide including;
High Radial Load and Speed Capability
Self-alignment
Wide Range of Standard Supports and housings
Flexible Sealing Options
Interchangeability with competitor designs
Innovation in Design: Interchangeable Designs Available for SN / SNL and SD series
Machined Brass Cage
As standard – Enhanced ability to accommodate higher speeds, temperatures, whilst at the same time, reducing noise.
Innovative Cage Clip
Clips retained on one cage half during assembly and disassembly.
250 Grade Cast Iron
Conforms to BS EN1561:1997 for additional strength and durability.
Longer life due to a robust design featuring double webs and thick sections of high grade cast iron.
Profiled Rolling Elements
Minimises damaging edge stress for increasing bearing life and reliability.
Wide Product Range
Light, Medium and Heavy Series ensure an exact match of bearing performance to your specification.
Ability to closely match application load requirements with engineered bearing configurations.
Revolvo Housed Units are able to operate in a range of environments, with eight seal designs to combat ingress.
Innovation in Service: SNQ Next Generation Design
The first-of-its-kind 45 degree angled support pedestal of the Quick Design Series, makes installation even easier for applications with low clearance between the base and the center of the shaft. The angled pedestal allows the drive to
stay connected during installation. There's no need to re-position or lift the shaft. The Quick Design Series is available in metric and imperial sizes in a wide range of shaft diameters up to 6" (150mm). Additional sizes up to 12" (300mm) are available on request.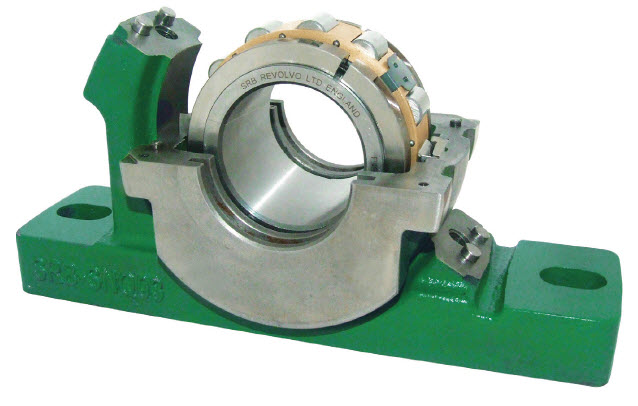 Cost Effective
Additional Cost Savings can be generated by the use of SNQ units, due to the increase in machine up time and reduction in maintenance down time.
The increased price of a Split Cylindrical Roller Bearing SNQ is more than offset by the savings made during installation and the ongoing reduced cost of maintenance during its service life.
During their operational life SNQs are shown to reduce maintenance requirements and unplanned downtime by up to 90%. These savings are achievable across all industrial applications, making the Total Cost of Ownership of an SNQ bearing far lower than other designs.
Engineered Solutions You Can Rely On
Confidence in your operation starts with trust in the performance of critical components. Revolvo split cylindrical roller bearing housed units give you that confidence, handling the load and speed requirements of most challenging applications.
Performance is more than the product. You can depend on Statewide Bearings and Timken to support your operations from design to installation with service engineering consultation, training and on-site support service.
Modular stocking gets you what you need when you need it.
Custom designs supported by experienced engineers and design systems.
Application support engineers work directly with you to design solutions for your application.
Supported Australia wide by exclusive authorized distributor: Statewide Bearings and local Timken Service Engineers.
To see or order from our range of Timken Revolvo products, contact your local Statewide Bearing branch today!